Categorie
Tutti i post di Mother India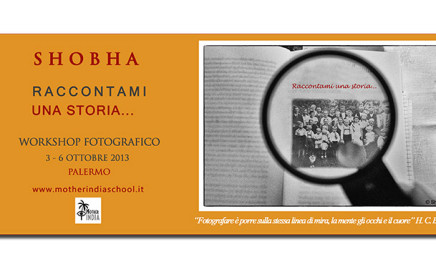 Workshop con Shobha a Palermo dal 3 al 6 ottobre 2013, con la presenza straordinaria di Letizia
Battaglia.
Raccontami una storia…un personaggio, un luogo, un'atmosfera, una denuncia, un amore, la tua
famiglia, te stesso, un sogno, una visione, i tuoi amici, i tuoi figli… qualcosa che stai vivendo
intensamente e che vorresti denunciare e condividere.
Raccontare qualcosa che ci tocca e che ci coinvolge personalmente è un atto di generosità,
coraggio, amore e libertà.Workshop with Shobha in Palermo 3 to 6 October 2013 with the extraordinary presence of Letizia Battaglia.
Tell me a story … a person, a place, an atmosphere, a complaint, a love, your family, yourself, a dream, a vision, your friends, your children … you're experiencing something intensely and you would like to report and share. Tell something that touches us and affects us personally is an act of courage, love and freedom.